Well it is on again! RPG Superstar 2013. I've entered every year. My first year wasn't even a Wondrous Item, but an Anvil, which was more of an artifact. Every year I've improved, will I make Top32 this year? Competition is fierce. Are you going to be my competition?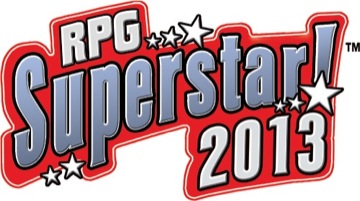 Paizo Publishing is proud to announce RPG Superstar 2013, the sixth season of its popular RPG design contest. The search for the newest talent in RPG design begins now!
Over the last six years, RPG Superstar has discovered some of the best new RPG designers in the business. Designers discovered in this competition have found work writing for Paizo products or even joined the Paizo staff as employees. The staff are excited to see the great new talent out there, and look forward to working with the winners for years to come!

RPG Superstar consists of five RPG design challenges spanning several weeks. In the first round, members of the paizo.com messageboard community votes for their favorite open call wondrous item submissions, and a team of celebrity judges winnows those down all open call submissions to 32 finalists. In later rounds, the judges provide commentary and the messageboard community post their comments and vote on following round submissions until only four finalists remain.
This year's ultimate winner will write a Pathfinder Module to be published by Paizo. Three runners-up will win the opportunity to write Pathfinder Society Scenarios, meaning all finalists will be offered professional writing contracts with Paizo Publishing, and an opportunity to begin their freelance careers with high-profile RPG releases!
Last year Mike Welham's Doom Comes to Dustpawn emerged victorious as 2012's RPG Superstar winner after a week of public comment and fan voting at paizo.com. His winning adventure will release as a full-color printed Pathfinder Module.

Paizo has selected three veteran RPG Superstar judges to oversee the competition--Paizo Developer Sean K Reynolds, Legendary Games president and Necromancer Games founder Clark Peterson, and notable game designer and Kobold Press founder and publisher Wolfgang Baur. Additional guest judges will assist with each installment of the multi-challenge contest. The judges will critique each round's entries.
Starting at 2 PM Pacific Time on December 4, 2012, contestants will be able to submit their RPG Superstar entry. For the first round, that entry will be a wondrous item designed for use with Paizo's Pathfinder Roleplaying Game. Each entry must be 300 words or less, and must include all of the proper mechanics and flavor. Contestants must submit their entry by December 18. Voting is open to anyone with a Paizo.com messageboard account, and begins on December 20. The judges will select the best 32 entries out of the 64 most popular entries; the top 32 are announced on January 22, 2013. Those 32 contestants will be assigned a new design task and their entries will be posted on paizo.com for the public to read, critique, and vote on. The designers garnering the most votes in each round will continue on to subsequent rounds.
Specifics for each challenge will be announced as each round begins. The winner of RPG Superstar 2013 will be announced on April 2, 2012. Do you have what it takes to be the next RPG Superstar?